DraftSight SwYm Community Migration

The DraftSight SwYm community is migrating to a new, updated environment, which will provide you with a more modern and mobile-friendly online community experience.  This new cloud-based environment supports multiple languages and presents an easier way for you to share and interact with your peers, like-minded professionals, and DraftSight users around the world.
Visit the new DraftSight SwYm Community now >>
What is changing?
The historical content from your previous DraftSight community has been migrated over to this new environment, including current membership levels, existing blogs, comments, endorsements, iQuestions/Answers and media files.
What's New?
Your new community will be fully supported and updated on an on-going, transparent and regular basis. Existing content will remain in your former DraftSight community for viewing until the end of 2017, but no new content will be created. Here are some highlights you'll find in the new community:
Top bar: Placed alongside the 3DEXPERIENCE compass, you can search and access content, discover what's new with a click of the home icon, and quickly switch between communities you have recently accessed.
User Interface (UI) wall: See all of your relevant community information via the UI wall – this wall is a stream of the latest interactions happening in your communities that you are a member of and includes iQuestions, blogs, media, in-line video playback as well as 3D model viewing, etc.
6WTags: Filter content through the 6WTag system (who/what/where/when/why/how) to quickly find what you are looking for.
Notifications: Receive updates about your content or notifications from other users – either emailed to you or in the 3DSwYm platform.
Mobile friendly: Select any content type from the community context menu and view easily on a mobile phone or tablet.
Ideation: With the new Ideation feature, ideas can be proposed by any community member, discussed, endorsed and advanced along the ideation pipeline in an easily accessible, clear and transparent manner.
How can I access the new community?
Simply visit www.DraftSight.com/community! You are invited to create and interact within the new community space starting today.
How can I submit an iQuestion?
Just as in the previous community, you can submit a question to our experts and your fellow community members for technical support for DraftSight. Once in the new DraftSight community, select the "Questions" tab on the right hand side of the page. Simply enter your question in the box at the top of the page, then select "Publish" to ask your question to the community.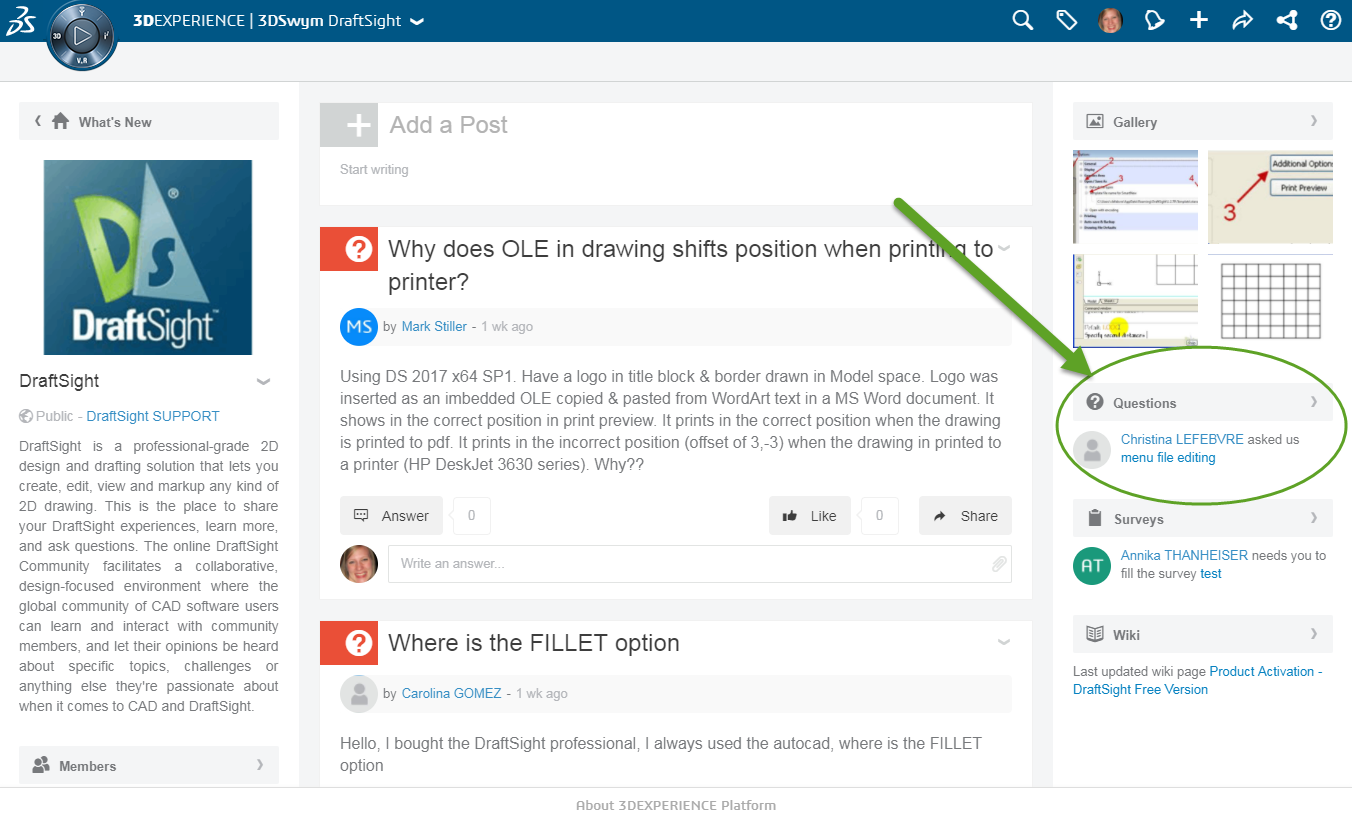 We hope to see you in the new DraftSight SwYm community soon – come join us now at www.DraftSight.com/community!
To learn more, visit the 3DEXPERIENCE Platform On Cloud community.
Your DraftSight Team