DraftSight 2019 Pricing Structures
DraftSight 2019 has been with us for a few months now, so I thought I'd use today's blog to talk about the new pricing structure.
Of course, there is an elephant in the room, so we might as well deal with that first. You will have noticed that there is no longer a free version of DraftSight available for download. So, what happens to existing free versions of DraftSight? Well, if you're using the free version of DraftSight, you may continue to use DraftSight 2018 or earlier until December 31, 2019. After that, all free versions of DraftSight will cease to run.  DraftSight, from then on, is a purely subscription product.
However, a free 30-day trial of DraftSight 2019 Premium is available with no registration required – so you can download and start trying the new features immediately.
So, what are the subscription costs?  Well, I'll break them down below:
DraftSight Standard contains the essential set of 2D Drafting Tools that existing free users will be familiar with. It's the perfect version of DraftSight for those who don't need the ability to run Lisp routines, access the API or create 3D Solid Models. You get a Professional Level 2D CAD package for $99.00 a year. That's a little less than the cost of one bottle of soda a week. Learn more about DraftSight Standard.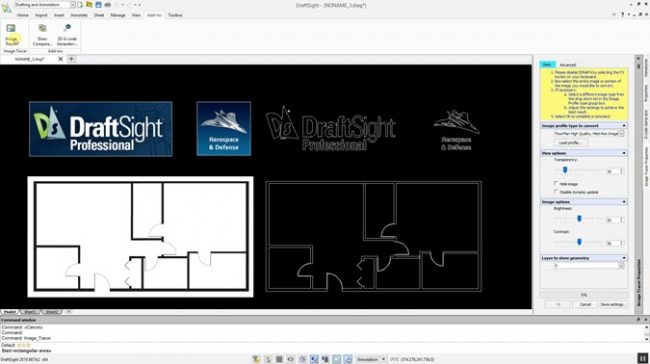 DraftSight Professional builds on the solid base of DraftSight Standard and gives users access to the DraftSight API, Lisp Routines, Macro Support, Image Tracer, Batch Printing and many other additional features. DraftSight Professional costs $199.00 a year.  That's less than the cost of one cheeseburger meal a week in a fast food restaurant. Learn more about DraftSight Professional.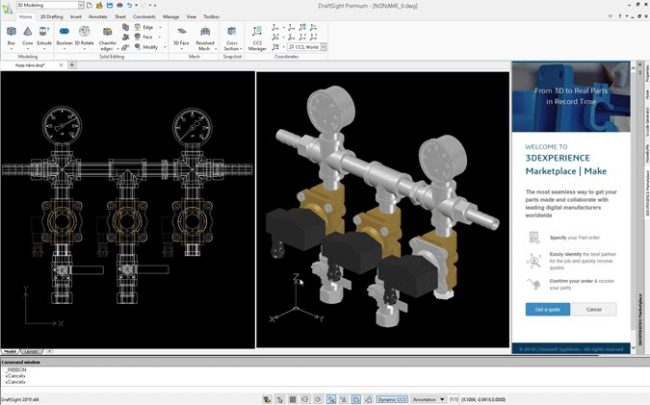 DraftSight Premium is the top level DraftSight subscription package.  You get everything that is in the Standard and Professional packages with the added ability to create 3D Models and Solid Objects. These can be used with rapid prototyping machines such as 3D Printers, or can be sent directly to the factory for manufacturing. DraftSight Premium costs $499.00 a year. That's substantially less than half the cost of some other 2D / 3D CAD packages. Learn more about DraftSight Premium.
DraftSight Enterprise / Enterprise Plus:
DraftSight Enterprise and Enterprise Plus are the Network Licensing enabled versions of DraftSight Professional and DraftSight Premium. They are designed for easy installation in a Network Environment, so are suitable for large scale. To request a quote, click here.
This release represents a major product upgrade based on user-requested feedback. Whether you need essential 2D drafting, advanced 2D drafting, or an all-in-one 2D and 3D design solution, DraftSight 2019 offers affordable options to meet your specific needs. DraftSight customers say it's the best deal on the market.
IMPORTANT:
DraftSight 2019 for Windows® is offered in paid versions only.
Once you download and install DraftSight 2019 (free 30-day trial or purchased version), you will no longer be able to re-download or access any previous free version of DraftSight (2018 or earlier). All free versions of DraftSight (2018 or earlier) will cease to run after 12/31/2019.
Learn more about DraftSight 2019 here.