Last Chance to Sign Up for DraftSight Live October 26th!
The countdown has begun, and we're just days away from DraftSight Live 2023, the virtual event of the year for anyone passionate about drafting and design. But here's the deal – if you haven't registered yet, it's officially your last chance!
DraftSight Live – Virtual Event
October 26, 2023, 10:00 AM – 1:00 PM EST
Why should you be scrambling to register right now?
Well, aside from the fact that DraftSight Live is your ticket to all things drafting and design, we're giving you an exclusive look at what's new in DraftSight 2024, including enhanced tools, features, and capabilities that will revolutionize your drafting game.
But that's not all. Here are reasons why you can't afford to miss out on all the excitement:
         Easy to Use: DraftSight has always been known for its user friendliness. With DraftSight 2024, that user friendliness gets a turbo boost.
         Boosts Productivity: The new tools and features in DraftSight 2024 are designed to save you precious time. Because who doesn't want more time for creativity?
         Offers Flexible Licenses: DraftSight offers a choice of licenses so you can work the way you want to work, including network, perpetual, and named user licenses.
         Enables Seamless Integrations: DraftSight works well with other software, like SOLIDWORKS, SOLIDWORKS PDM, and CATIA, which means your workflow just got a whole lot smoother.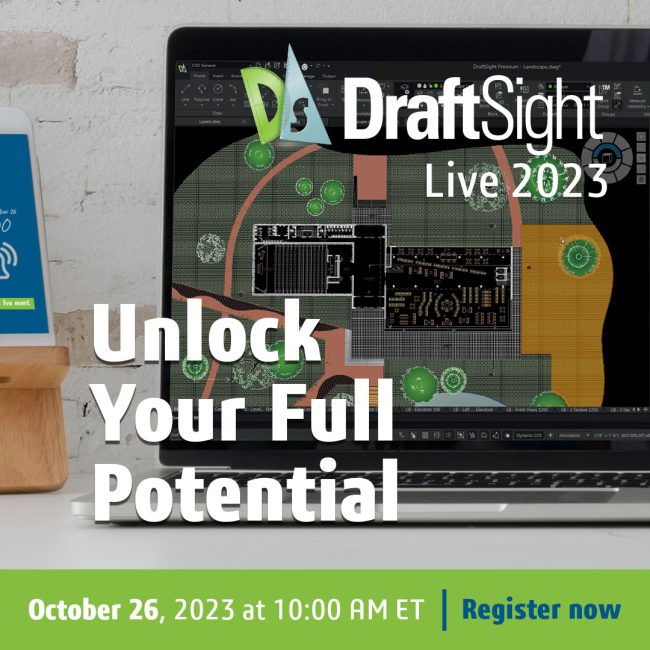 And here's a bonus: DraftSight Live is not just about the event day. You'll also get access to learning resources, training materials, and on-demand webinars that you can dive into at your own pace. It's like having a library of drafting knowledge at your fingertips.
Register right now to secure your spot for DraftSight Live 2023, happening on October 26th. It's your chance to get a first look at DraftSight 2024 and take your drafting skills to the next level!