Working with massive 3D point cloud data inside DraftSight 
3D scanners are becoming popular as a way to collect data on existing infrastructure for reuse in new design projects. The scanners save data as three-dimensional voxels, spatial points that define their location and color. A typical scan of a building or a bridge contains millions of points, collectively known as a point cloud. Once the data has been captured by the scanner, the point cloud must be converted into a format useful to a CAD program. 
Earlier this year a new DraftSight Professional add-on became available to bring 3D point clouds into the DraftSight workflow. UNDET Point Cloud for DraftSight allows DraftSight users to work with point cloud data with an average computer, which otherwise would be too much data for DraftSight or any other CAD product on all but the most powerful workstations.   
UNDET for DraftSight offers the intuitive CAD interface you expect in Draftsight, and it saves in the DWG format. Using data imported by UNDET is like working in DraftSight. The user can create 2D ground plans, sections and facade elevations.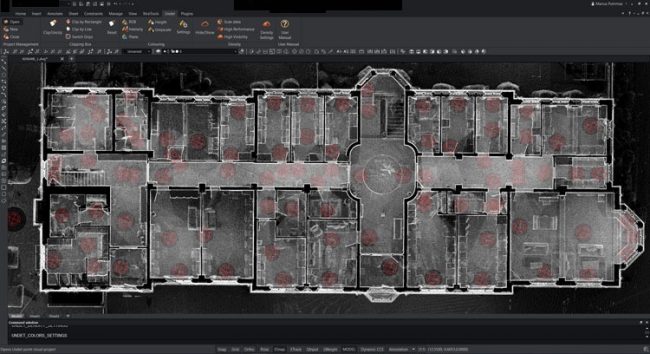 It is in the special additions for point clouds that UNDET for DraftSight shines. It allows very large files to work quickly inside DraftSight, even if used on a notebook computer. Points can be colorized by intensity, height, plan, natural color, or other reasons of your choosing. This can be done with or without transparency, which provides more flexibility in studying the model and making design choices. 
Clip by Line or Rectangle is used to isolate an area before increasing the density or visibility of points in a region. Once isolated, DraftSight CAD tools can be used to draw on top of the point cloud. Use cases include reverse engineering, remodeling, and modifications. For example, a study of the model could help place a path for new plumbing that can be installed without risking interference with the existing plumbing or other building elements.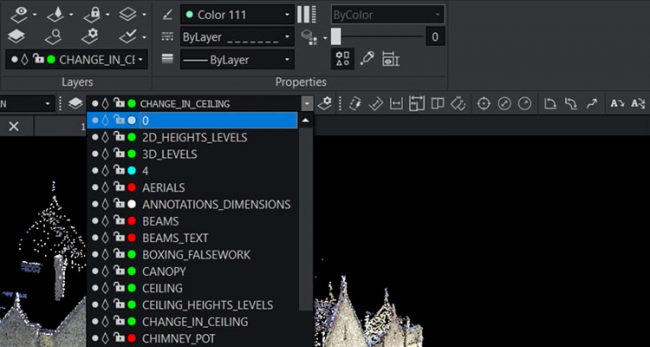 UNDET for DraftSight includes a variety of tools for working directly with the point cloud data before/after using it as part of a CAD drawing. Project Management features control data upload and unload, indexing the point cloud in the drawing, and establish a boundary box. Coloring Management enables rendering in natural colors, by intensity, or by plane. There are controls for changing transparency, point size, and other color settings. Density Management is used to strike a balance between visibility and performance.
UNDET is a software company specializing in point cloud data for CAD; the company works closely with CAD software specialists to produce solutions for several drafting software products. UNDET also offers point cloud processing services.    
A seat of DraftSight Professional equipped with UNDET Point Cloud for DraftSight is a professional, powerful, and cost-effective solution for working with large point cloud data sets. 
IMPORTANT:
DraftSight 2019 for Windows® is offered in paid versions only.
Once you download and install DraftSight 2019 (free 30-day trial or purchased version), you will no longer be able to re-download or access any previous free version of DraftSight (2018 or earlier). All free versions of DraftSight (2018 or earlier) will cease to run after 12/31/2019.
Learn more about DraftSight 2019 here.