Bringing 2D line art into the 3D workflow
The release of DraftSight® 2019 launched a new era for the users of Dassault Systemès products. DraftSight is now part of the larger 3DEXPERIENCE® ecosystem, a platform that connects users and businesses with tools for data exchange, information sharing, and collaboration. DraftSight belongs in the 3DEXPERIENCE because it bridges the gap between 2D and 3D design processes.  
Specifically, DraftSight provides an easier way to accomplish the four key functions of 2D/3D collaboration: digitize, convert, transform, augment. CAD users have been doing these four processes for years, but generally speaking, they lacked formal workflows and a single tool to accomplish all aspects. Therefore, DraftSight is working a Connector to the 3DEXPERIENCE platform.  
Take as an example the placement of a logo on a new product. The product is being designed in SOLIDWORKS®. When manufactured, the logo will be stamped directly onto the product. Where is the art for the logo and how does it get into the CAD workflow? The logo might only exist on paper, or perhaps it was scanned and saved as an image file. 
Before DraftSight, a member of the design team might have to use two or three different products to prepare the logo as usable CAD data within SOLIDWORKS. Or a designer would have to re-create the line art directly in SOLIDWORKS. DraftSight Professional offers a better way with a new feature called Image Tracer. 
Image Tracer can save countless hours of design time. From within DraftSight, it becomes possible to quickly and simply convert raster images to DWG files in seconds. The line art can be simple or complex.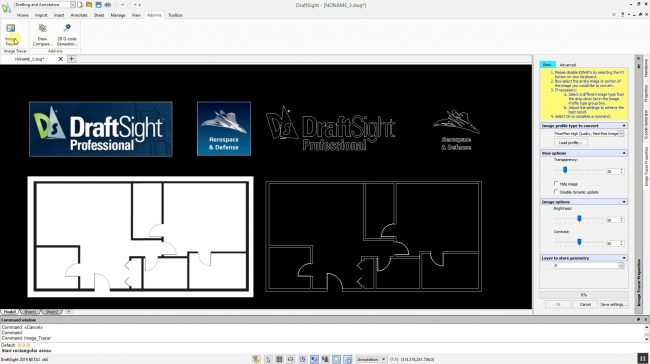 Manually retracing or using a 3rd-party software is no longer necessary; the required tools are built directly into the DraftSight interface. Accurately trace the logo (imported from .bmp, .png, and .jpg formats) to convert to vector format. Thanks to the easy conversion tools in DraftSight, the 2D logo can be converted to 3D and exported to SOLIDWORKS. It is also possible to use the logo from within DraftSight as 3D CAD data for other purposes. With the upcoming DraftSight Connector, all the sharing and collaboration can be accomplished on the 3DEXPERIENCE platform. 
Professional quality software that does raster image to CAD conversion costs several hundreds of dollars for a single user license. Then another product is needed to convert the 2D to 3D for import to SOLIDWORKS. With DraftSight Professional 2019, Image Tracer is included at no extra cost, and the 2D/3D conversion is included. 
Image Tracer is useful for a wide variety of tasks. Users are successfully digitizing old drawings only available on paper. Photographs of buildings or objects are being converted into CAD data. At a recent user conference, DraftSight Senior User Experience Manager Marco Leizza loaded up an image of an aging landmark building scheduled to be demolished. With a few clicks, he identified the face of the building and loaded it into DraftSight as editable geometry, making the design available to posterity. 
If your team needs legacy data only available as 2D line art, there is now a better way to bring it into the 21st Century, using DraftSight as the gateway to the Dassault Systemès 3DEXPERIENCE.
Learn more about DraftSight here.