Keeping Track of Projects – Part 1
Keeping track of projects can be a nightmare.  You have to start off on the right foot, otherwise things will get messy quickly! I'm not saying my system is perfect, far from it, but it works well for me, so I'll tell you about it.
Each project has a Project Number.  That sounds obvious enough, but rather than start at 0001, I decided to do something different. The first project I did for myself was way back in 2000. So, the Project Number is 2000-AA, then the next project was 2000-AB, then 2000-AC and so on and so forth.  This means that in any year, I could number projects all the way up to 20XX-ZZ.  My maths may be wrong, but I think that gives 676 different Project Numbers in any one year.  I've yet to work in a drawing office that has hit that limit!
OK, so that's how I number my projects.  Each project resides in the projects folder on my server in a sub-folder with the project number.  This folder contains server sub-folder also.  They are:
Drawings Received:- Drawings received from Design Team Member
Dwgs: – My own project drawings
PDFs:- PDF Files I've created.
Documents:- Project related documents.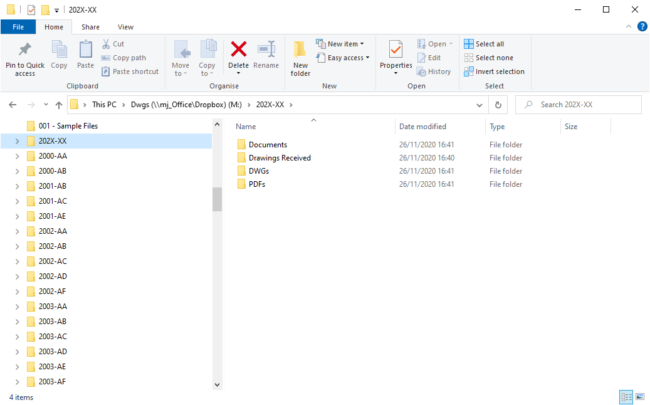 You can't control the naming conventions on drawings you receive, but you can do so for your own drawings.  Lets start with the Xrefs.  So, if we stick with the project 2000-AA, the Xrefs of the different floor levels are named as follows:
2000-AA- BAS.dwg – Basement Level
2000-AA-GND.dwg – Ground Floor
2000-AA-FIR.dwg – First Floor
2000-AA-SEC.dwg – Second Floor
Had the architect decided to call the floors Level 00, Level 01, Level 02 and so on, then 2000-AA-BAS would become 2000-AA-00 and so on.  You really have to stick with the Architects naming convention for floor names, otherwise confusion sets in very quickly!
Before I start creating the project files, I sit down and create a Drawing List.  I do this in Excel and then use it as a Drawing Register Sheet when issuing Paper or Digital copies of my drawings.  This Drawing Register allows me to work out how many drawings there'll be in the project and then I can assign Drawing Numbers to them.  You can see an example of the Drawing Register Sheet below: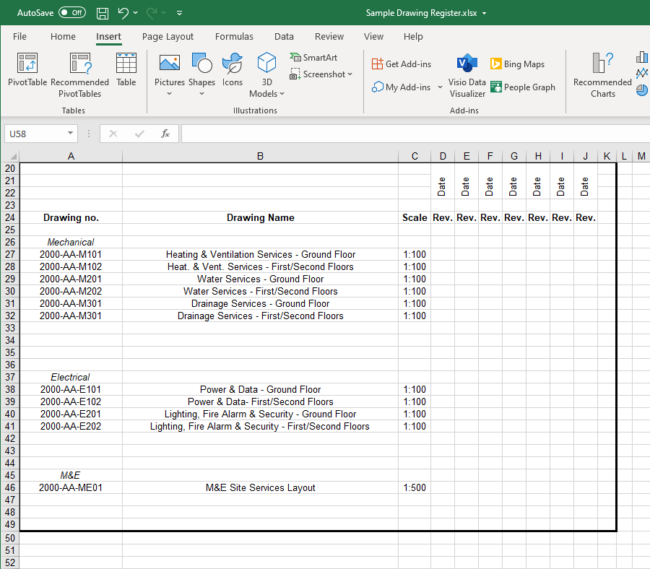 For Mechanical Drawings, Heating and Ventilation Drawings are always M1XX, Water Services are always M2XX, Drainage Service are always M3XX and so on.  The same goes for the Electrical Drawings.  The Drawing Number on the list above is the coreras the File Number.  I could combine multiple drawings in to one file, but for simplicity, I keep them separate.
So, I've covered how I name Projects, how I store Projects, the Drawing Register and how I name Drawings.  I think that's enough for today. In the next blog, I'll talk a bit more on how I reference Project Names versus Project Numbers and some other house keeping issues!
Learn more about DraftSight and how to start a free 30-day trial here.