Revolutionizing Design with DraftSight 2024
Witnessing the surge of technological advancements, DraftSight's latest version, DraftSight 2024, revolutionizes the CAD software ecosystem. With its innovative features and enhanced functionalities, it provides a proven comfort level and productivity, providing an exceptional user experience. From a number of UI improvements to workspace enhancements, support for tool palettes, enhanced navigation, improved layer management, to superior import and export capabilities – DraftSight 2024 is poised to optimize work efficiency and redefine user experience.
New User Interface Style and Workspace in DraftSight 2024
Preferring usability and aesthetics, DraftSight 2024 debuts with a dark mode as its default UI style. The dark mode provides a comfortable and eye-friendly environment, reducing eye strain and enhancing focus. Still, DraftSight 2024 has kept a switch to light mode as an option, promoting user convenience and ensuring that the software remains highly customizable.
Adding to the customization, DraftSight 2024 boasts a new workspace addition – CAD General. This workspace is now found in the combo box at the top left corner, designed to provide users with an improved look. Enlarged icons result in enhanced visibility for several commands, allowing for familiarity amidst both new and existing users.
For users who work with 3D components, or just prefer to adjust their model view quickly, a new view navigator allows for fast and easy switching between pre-set view orientations like plan view, isometric and more. Create your own custom view orientations that you can add to the mix, and make your drafting experience truly your own in DraftSight 2024.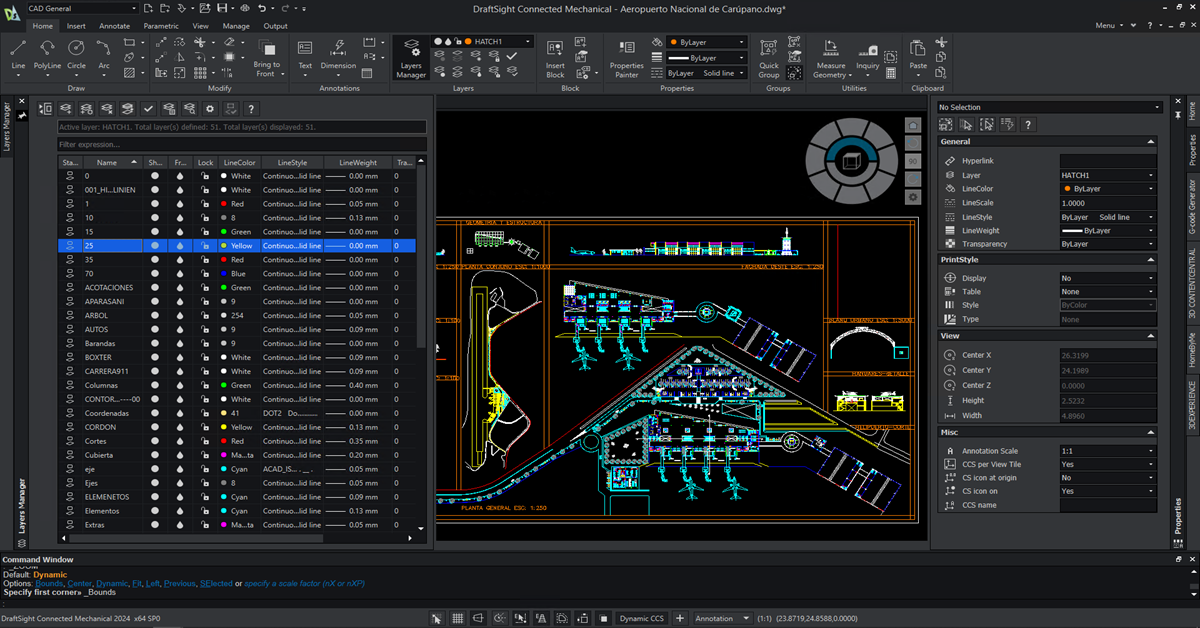 Leveraging Tool Palette Customization for Enhanced Productivity
DraftSight 2024 comes equipped with an exciting line-up of features that notably include enhanced navigation capabilities and tool palettes customization. For 3D modelling and 2D geometry, the new view navigator allows users to move swiftly between various views, enhancing their modelling experience.
The tool palettes in DraftSight 2024 are designed to spur productivity. Users can efficiently create new palettes by just dragging and dropping, or importing and exporting pre-existing palettes created in other 2D CAD solutions. The customization extends to predefined settings including layer, color, line type, LineWeight, and promises time efficiency when inserting entities. Moreover, accessibility to the tool palette has also been simplified in the new CAD General workspace, ensuring a comfortable workflow.
Advanced Layer Management and Innovative Layer Features
Layer management in DraftSight 2024 sees comprehensive improvements, with features designed to offer enhanced functionality. The software now provides the option to open the layers manager as a palette, streamlining the task handling. Additionally, it introduces the ability to merge multiple layers into a single layer, simplifying the organization of drawings and saving significant user time.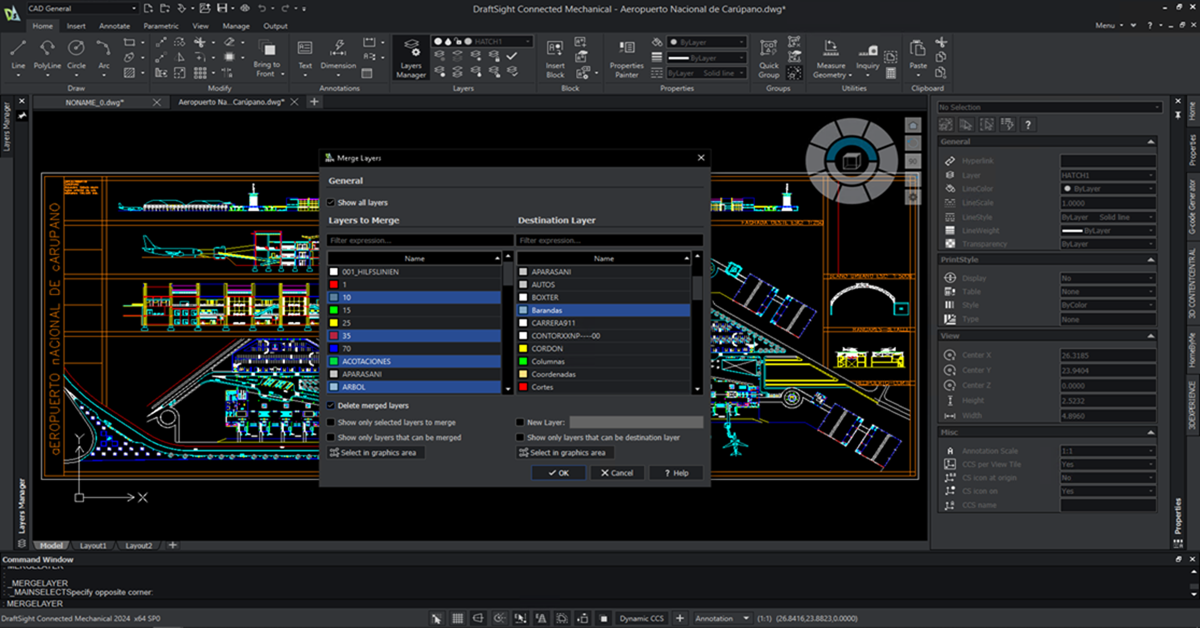 Revolutionary Import, Export, and Linking Capabilities in DraftSight 2024
Expanding its capabilities even further, DraftSight 2024 enables users to import CATIA drawings directly and open them as DWG files without the need for any conversion. This feature eradicates the complexities often associated with file conversion, allowing CAD professionals to channel their focus solely on designing.
DraftSight 2024 also provides the opportunity to import multiple files simultaneously as external references, thereby serving as a huge time saver. When files are imported this way, they do not become a permanent part of the current drawing. This feature helps to maintain a reduced file size for smoother operations.
Users who manage tables and data in excel will also be excited to use the new Data Link manager. Enjoy the ability to import and manage excel tables with two-way communication between DraftSight 2024 and Excel. Whether changes are made in DraftSight or in your spreadsheet, ensure that information is always up-to-date and accurate.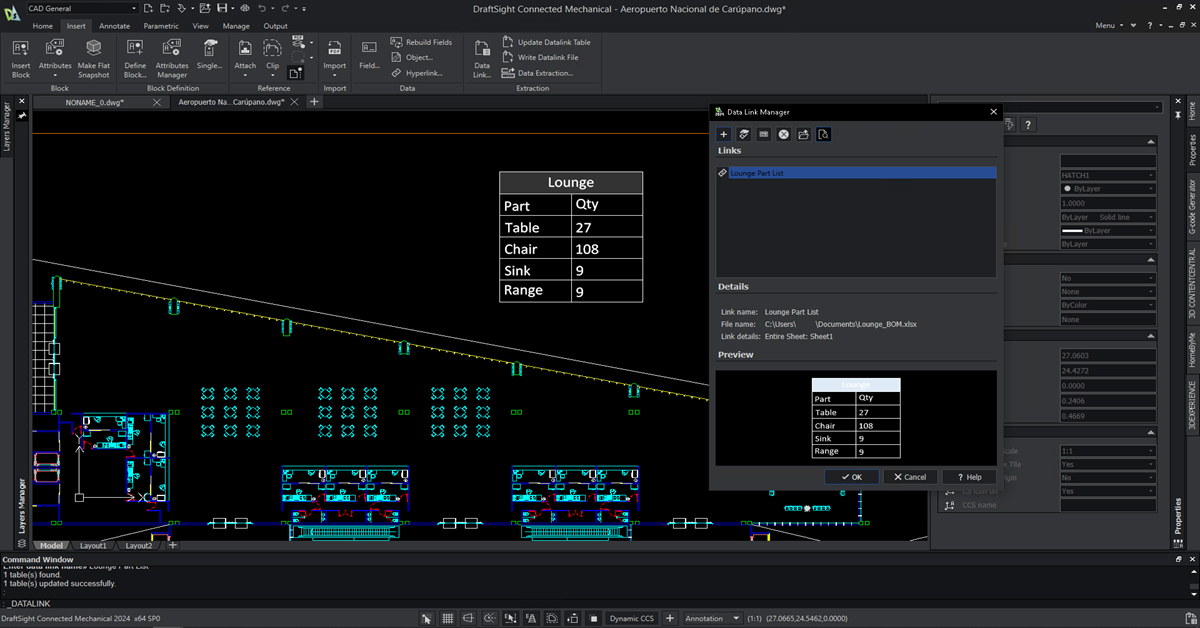 Conclusion
DraftSight 2024 raises the bar in CAD software with its array of ground-breaking features and tools offering an enhanced level of precision and efficiency. The new default UI style and workspace, coupled with enhanced navigation and layer management, set the tone for a user-centric environment. Alongside, superior capabilities in import and export operations fortify the software's performance.
On the whole, DraftSight 2024 signifies an innovative upgrade that is likely to take both new and existing users by surprise. The improvements in this version, aimed at simplifying its usability, ensure a leap forward in user experience. As the cutting edge in CAD software, DraftSight 2024 stands ready to facilitate design activities like never before.
If you are interested in learning more, explore short videos on each of the new tools on the DraftSight Features page or you can watch the on-demand session of What's New in DraftSight 2024 if you are looking for a more comprehensive feature demo.