Still Using DraftSight on macOS
This is week 3 of using DraftSight on macOS and so far so good.  I'm up to speed with it and from a DraftSight point of view, all is good!  macOS however, well, I'm still getting to grips with that!  Windows is so deeply ingrained in me that I keep going about tasks the wrong way!  But that's just me, not macOS.
If you are thinking of making the switch, you should be aware that there are a few features that are not available on the macOS platform just yet. They are:
Drawing Compare
Image Tracer
HomeByMe Integration
3D Content Central Integration
Network License
Deployment Tool
I'll explain below just what each of those is and, where possible, link to a blog that goes in to better detail.
Drawing Compare allows you to compare two drawings onscreen to see what differences, if any, there are between them.
Image Tracer converts Raster Images to DraftSight Entities.
HomeByMe Integration allows DraftSight users to access and work with their HomeByMe projects.
3D Content Central Integration is a free online repository of 3D and 2D CAD Models of User-Contributed and Supplier-Certified Parts, Assemblies and more.
Network License and Deployment Tool are both tools designed for large installations of DraftSight using DraftSight Enterprise.  Network License allows you to centrally manage your DraftSight Licences whilst the Deployment Tool.
Now, you might be wondering just why I brought this to your attention.  Well, clarity is key!  I knew, when moving to macOS, that these features were not available, but I don't need them in my day to day work, and if I did, I can always swap over to a Windows PC and  use the features there but others may not have that luxury! Obviously the DraftSight Team are working on bringing these features to later releases of DraftSight for macOS, but as you can see from the list below, DraftSight for macOS, just like DraftSight for Windows, is feature packed!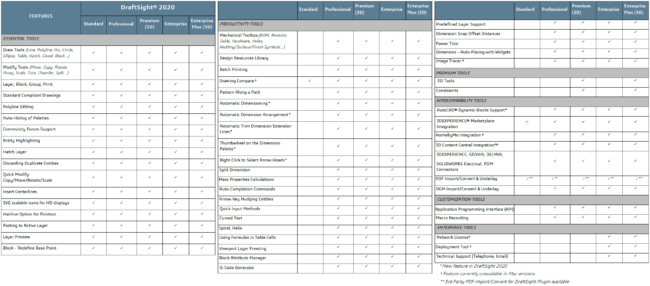 So that's it for now, if anyone else has made the move to DraftSight for macOS, I'd be interested in hearing your experiences.  Feel free to leave a comment below or on any of our social media pages.
Learn more about DraftSight and how to start a free 30-day trial here.